The way to this spot
This spot is located here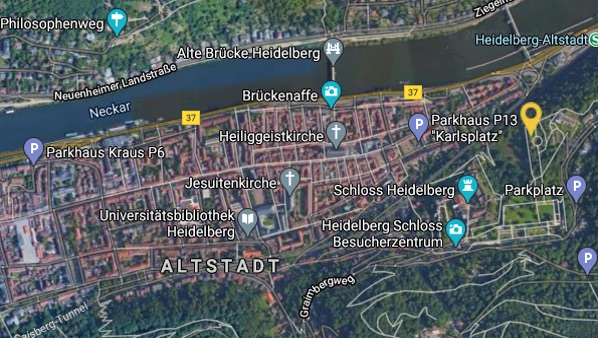 Scheffel Terraces
The Scheffel Terrace is named after the poet and writer Joseph Victor von Scheffel (1826 – 1886). Scheffel was a widely read author during the Wilhelminian era. In his works he combined the two basic currents of the spirit of the time, bourgeois eagerness for education and national enthusiasm. His historical epics and stories probably contributed in no small way to the self-image of the Germans, which had been emerging since the Bismarck era, as an old-Franconian simple, unaffectedly reliable and seriously thriving nation.
Task: Scheffel statue
Here Salomon de Caus, the planer of the "Hortus Palatinus", wanted to erect a tower-like building with an open hall. From this location one would have had an impressive panoramic view of the castle, the city of Heidelberg and the Neckar valley. The work on the foundations was stopped at the end of 1619.
In addition, a bronze statue of Joseph Scheffel stood here until 1942, which was erected in 1891, giving the terrace its name.
Can you find out what exactly happened to the statue?
Please wait until your host gives you the permission to move to the next station