The way to this spot
This spot is located here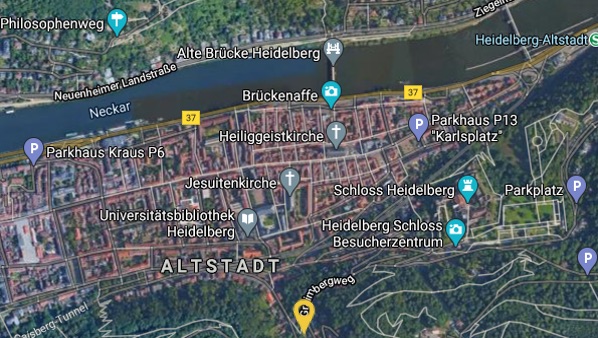 Klingenteichwasserfall
The Klingenteichbach (Klingenteich stream), rises below the Molkenkur and flows through the valley gorge past St. Peter's Church in a slightly western curve into the Neckar. In the part below the Klingentor the stream is piped.
The waterfall has existed since the end of the 19th century. In 1968, it was further expanded with funds from the "Aktion Bürgersinn" campaign, when the waterfall was enlarged. During this time, a viewing terrace was also built, which was further expanded by the renovation work that began in January 2009. Under the direction of the Landscape and Forestry Department of the City of Heidelberg and according to plans by landscape architect Helmut Borst from Leimen, the complex was once again transformed into a green space that invites you to pause and relax.
Task: Discussion
The story of "Heidelberch" began at the Klingenteichbach (also called Klingenbach or Klingengraben) which rushes from the "Molkenkur" to the Neckar. Later it was piped below the Klingetor.
Towards the end of the 11th century some farmers settled here. They buried their dead near a little church which they had christened "St. Peter". In 1196 the church is mentioned in a document for the first time. Today it is known as St. Peter's Church and stands directly opposite the university library.
Briefly discuss in your group what advantages a settlement by such a stream must have had at that time.
Please wait until your host gives you the permission to move to the next station