This spot is located here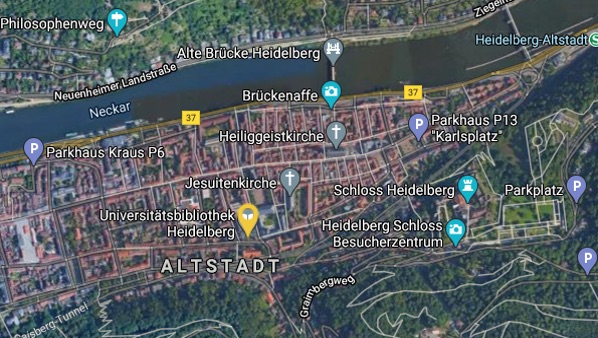 Heidelberg University Library
From 1901 to 1905 the elaborate complex of the university library was built based on the design of Joseph Durm, an architect from Karlsruhe. He took up motifs of the "German mannerism" from the late 16th century and combined them with Jugendstil (Art Nouveau) elements.
On November 6th, 1905 the library was opened and since then it has been considered "a top achievement of Baden architecture".
To the east and south, the facades are richly decorated with sculptures, architectural details and ornaments. The key to understand the façade is provided by two sculptures at the main entrance: Prometheus on the left and a female figure on the right. The woman and child symbolize the passing on of knowledge from generation to generation.
The laughing and crying masks represent the comedy and tragedy. An inscription pays tribute to Grand Duke Friedrich von Baden, who as sovereign was also the rector of the University and thus the builder, which also explains the Baden coat of arms. Above the windows, medallions depict the electors.
Task: Discussion
In 2018 the university library had around 2,6 million visitors. Almost 47.000 active users have borrowed over 1,2 million books and media.
This is a place where knowledge is acquired, shared and exchanged on a daily basis. Your task is to tell a little bit about yourself to the other group members in 2-3 sentences.
After that you can continue to the next station with the button below.
Please wait until your host gives you the permission to move to the next station